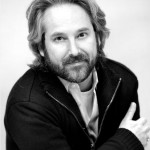 Brian Jedan was born in Toronto, Ontario in 1968. His father Karl emigrated from Germany in the '50s with a wooden crate that he built himself and $15 dollars. His mother arrived in Canada at the age of one with her stepfather and mother.
Growing up in Cookstown, Brian attended Bradford District High School.  An irreverent student; if someone said it was against the rules, he'd challenge it. He says, "I wasn't rude or mean or overly disrespectful of others, I just wanted to know 'why?' "
Admittedly, he wasn't a model student, but he learned nonetheless, and there were moments and people that made an impact. One teacher he says, deserves most of the credit. "Peggy Stevens made me think about society and government and policy and equality. I tried not to buy in, but she made us ask questions. She insisted that anyone could make a difference and everyone had the right to try."
Ultimately, Brian Jedan left high school before graduating, choosing instead to begin his career in the workforce. Brian knew that he needed to be working in construction. He wanted to walk in the footsteps of his mentor: his father.
In 1994 Brian took a position at MJ Dixon Construction Management as a Junior Construction Superintendent, working on Toronto Transit Commission projects.  There's something to be said for the construction industry and the people that work in it. "Watching a man with little or no formal education spar with an architect or engineer and win the argument was a spectacular thing to see. It proved that no man or woman was better than the next. In fact, as I found out later, it was less about one-upmanship and more about sharing the wealth. Everyone could learn and everyone could teach."
After five years Brian moved on to Canning Contracting Ltd., but in an entirely different capacity, as a Junior Estimator. As time passed, he was stepping into roles that weren't his, jumping in and take care of critical situations, eventually finding himself back in the field as a senior construction superintendent.  In a final piece of irony, while completing a job at The Ontario College of Art and Design, Brian hired his father.
By 2004, construction was taking its toll.  "Construction is a 24 hour-a-day occupation. When people look at those of us who spend our lives covered in dirt and concrete dust, they tend not to look too kindly. But I'll tell anyone that there are no finer people than those in the construction industry. They start early, they work late, they work weekends and holidays, they have little or no job security, yet they stand on the sides of skyscrapers hanging by threads so that we can all have a place to live."
From 2004 until October 2006, Brian took a self imposed sabbatical and re-grouped in the hopes of embarking on a different career path. "I loved construction, but I needed more. I needed something different.Fascinated by entertainment and marketing, one day he met a friend of a friend who happened to work for Universal Music and literally went up and asked him for a job. Given an opportunity to submit a resume and interview for a sales position, he ,made the most of it and much to his pleasure, he got the job and spent the next four and a half years there.
In the summer of 2009, the Liberal candidate for York-Simcoe stepped aside, and remembering what his 9th grade history teacher had instilled in him, Brian decided to throw his hat in the ring. "I had to try. I was so frustrated with the federal governments of both Martin and Harper that I had to do something." He didn't win the nomination, but he did win the minds and backing of a number of people and was soon asked to lead a new Canadian political party. The United Party of Canada.
As Brian saw it, the United Party was what Canadians expected from politicians. It was an amalgamation of people, not ideologies. It was to be a group of disenfranchised Liberals, Conservatives, Greens, NDP and whomever else had the passion for fiery debate with a common goal; resolution.
Today, the party is in still only its infancy, yet people are starting to hear the words and get the message. "I'm very proud of the fact that this level of faith has been placed upon me. I have no intention of letting them down."
Today Brian is owner and president of a new corporation called Mulberry Street Content Company Inc. which produces and distributes television shows and podcast programming not only for themselves, but for other writers, creators and corporate entities also.  His relationship skills have allowed him and his partners to forge new business ventures and expand on a growing need for content in the digital age.
Brian is 43 years old, unmarried and enjoys a quiet existence in the riding of Toronto-Danforth with his two Boston Terriers, Annabelle and Jackson Pawlick.  His hobbies include acting, playing guitar badly and the occasional round of golf.  When time allows, he enjoys Lake Simcoe on his antique boat.