We will consult with business to generate a list of specific regulations for repeal, reduction or simplification. We'll introduce independent checks on the costs and benefits of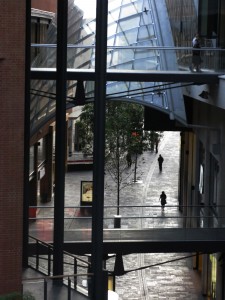 regulations. We will cut business rates for small business and make Government contracting more transparent, to help smaller firms succeed.
Set business free – We will cut business rates for small businesses, beef up competition policy and make government contracting more transparent.
Protect the rights of the consumer – We will ensure customers get a fair deal by making watchdogs more powerful and accessible, reduce overcharging and hidden fees, and ban ATM fees for institutions regulated under the Bank Act, by requiring more accountability and transparency from the cell phone companies, the banks, airlines and other companies. This will include ending unfair charges on incoming text messages.
Limit outrageous interest rates and fees charged by "fringe banks". We will enforce existing regulations to limit the interest rates and fees that can be charged for services like "payday" loans, tax refund advances and cheque-cashing.
Cap the interest rates on credit cards to a maximum of 5 percentage points over prime by amending the Bank Act.
Provide greater support to working families that need assistance in managing their consumer and household debt.
Ensure that consumers' concerns are heard by requiring federally regulated agencies such as banks, telephone companies and cable corporations to fund citizen oversight committees to monitor fees, rates and regulatory decisions as part of the formal regulatory and rate-setting process.
Protect families by giving Health Canada and the minister responsible for consumer protection greater authority to:
Investigate and directly order the recall of unsafe and toxic consumer products including toys, groceries and pet food.
Increase testing and inspection of imported products, with standards that match those required of Canadian products.
Require federally regulated agencies to provide better customer services, as well as better complaint mechanisms, and measurable, high-quality customer support.
Modeled on proposed legislation in the US, the United Party will take action to stop the import of toxic products and better protect Canadians. We will make importers responsible for costs of inspecting and ensuring the safety of their products.
End the use and circulation of the Canadian penny, increasing convenience for shoppers and cutting unnecessary costs to the government.
Respect the right of families and individuals to know what they are eating:
Mandatory labelling of farmed fish and genetically engineered food, as is already done in Europe, Asia and Australia.
New labelling requirements to inform consumers of the region of origin of food products and ingredients – so they know how far food has traveled to reach their table.
Establish a more effective "do-not-call" list for telemarketers. We will impose tough new sanctions on telemarketers who violate the list.
Combat identity theft and control online computer fraud against innocent consumers and seniors, including spamming and "phishing". We will work with consumers, experts and businesses to implement tough new measures to fight cyber-crime.
Pocket Guide to the United Party of Canada Policies November 2010